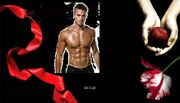 When Vlad first met Vlad she fell in love with him. Vlad wanted nothing to do with Rose for a while even though he was a little tempted to take his share of her. Vlad was a teacher of fighting, and when Rose asked him if it was ok for him to train her he agreed. Alice liked Vlad as a brother but when Rose found out about it, she gave her a little warning on whats hers. In training though, Vlad was a little bit awkward. He was always out in the sun and meeting people. But Rose didn't take very kindly to they being just friends. So suducing him was the only way. Even though Vlad was a little older he knew his love for her went deep. One thing though happened one day that made Vlad love her even more. While his occassional fighting with Emmett and the rest of the familiy went from him a modern rock star ion all of Forks on no one ticked him off the way wolves did. When he saw that the Wolves are planning a pact, he begins to change into a beast. No ordinary change, it was very painful. Claws retreated from his hands and he run away from the pact. Rose runs after him and when he is about to kill Carslile she looks at him and its if a spell intriguded him into were he runs off again when she finds him he's shivering and naked. She finds his clothes and calms him down long enough for them to run even deeper into the woods where they kiss and finally have sex. Realizing shes the only thing he wants he starts to date Rose and eventually they marry. But then another tragic event happens and he is arressted. When he returns in Forever Dawn: Part 2 he maries her fianlly.
Ad blocker interference detected!
Wikia is a free-to-use site that makes money from advertising. We have a modified experience for viewers using ad blockers

Wikia is not accessible if you've made further modifications. Remove the custom ad blocker rule(s) and the page will load as expected.