Ad blocker interference detected!
Wikia is a free-to-use site that makes money from advertising. We have a modified experience for viewers using ad blockers

Wikia is not accessible if you've made further modifications. Remove the custom ad blocker rule(s) and the page will load as expected.
Today is one of the best days of the year. It's Kellan Lutz's birthday! He might not be a main character in Twilight but he is my favorite(besides Edward that is). he turned 27 today.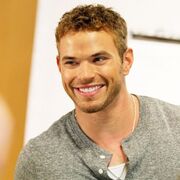 He is very extremely supper cute. And Emmett is super hilarous. I could just kiss him. I juat wanted to honor him today on his borthday. And even though I dnt have a twitter i want everyone who does have oneto go on to his page and tell him happy birthday. his twitter name is @kellanlutz make sure u say happy birthday.
i can name atleat 10 reasons why Kellan Lutz is so amazing. In fact here are 1o reasons why:
he is hot
he played a vampire
seems like he would be a sweet and dwon to earth person
plays in a lot of movies were he isnt evewn human
he sparkles in the sun
he was able to pull of playing emmett
he was in twilight(hello that makes him aswome)
he seems like a cool person
emmett was a very funny character
i think you get my point
-thx