Hi there its me again, this is a picture from Breaking Dawn iI have seen it before and always wondered why does she looks so good. She is supposed to be carrying a murderer in her stomach. I thought this maybe because she has had the blood but she looks to bloodey good to be dying. I think this picture is unexplaining with out the whole film. let me know what you think ...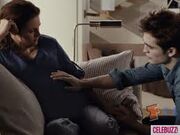 It is 11 days til the English realese of The Twilight Saga Breaking Dawn Part 1 . I am so excited. Pity though, I can't go and see it on the day it comes out. Have to wait until after my birthday when I have to money. 2nd of December come quick. Breaking Dawn Part 1 here I come !!!
Ad blocker interference detected!
Wikia is a free-to-use site that makes money from advertising. We have a modified experience for viewers using ad blockers

Wikia is not accessible if you've made further modifications. Remove the custom ad blocker rule(s) and the page will load as expected.