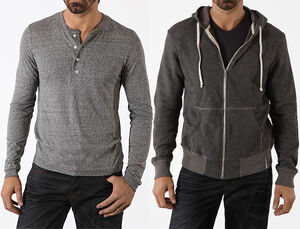 Kellan Lutz, otherwise known as Emmett Cullen from Twilight, is debuting a new clothing line, and for his advertisements, he has chosen to pose provocatively with supermodel Anne Vyalitsyna.
His men's collection so far has twenty-five pieces and is now available at Nordstrom. Regarding his decision-making position, Lutz says to LA Times: "I am a part of every decision," he told the LA Times. "Nothing gets decided on unless it comes through me. I put in a lot of input now like I did in the beginning. We raided my closet to find out what type of shirts I usually wear and what kind of fabrics I like. Because I didn't just want to be the face of the campaign, but have it be my brand."
While the hoodies are about $168 and the T-shirts are $98, Lutz promises that he is using the highest-quality soft material that feels fantastic on the skin.
Source: Live.DrJays.com
Ad blocker interference detected!
Wikia is a free-to-use site that makes money from advertising. We have a modified experience for viewers using ad blockers

Wikia is not accessible if you've made further modifications. Remove the custom ad blocker rule(s) and the page will load as expected.