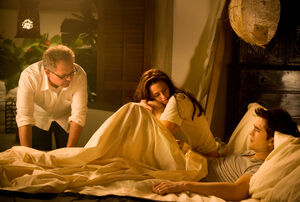 Twihards have been waiting...and waiting...and waiting some more, for the highly anticipated Breaking Dawn photographs. In these pictures, you will see Bella and Edward on their honeymoon and in post-marital bliss.
While the leaked pictures are delightful for Twilight fans, the Twilight cast and production is not as thrilled. Director Bill Condon, Stephanie Meyer, and Robert Pattinson are less than happy about the leaked photos.
Warning: these photos could contain spoilers. You can view them in this tantalizing gallery.
Source: LAtimesblogs
Ad blocker interference detected!
Wikia is a free-to-use site that makes money from advertising. We have a modified experience for viewers using ad blockers

Wikia is not accessible if you've made further modifications. Remove the custom ad blocker rule(s) and the page will load as expected.