This is the day of Mary and Santiago married.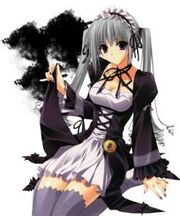 "You ready dad?"
"No not really."
"Why?"
"Cause when i married your mother she was in no hurry now look at you."
"Dad i love you too.But you do not now my love for Santiago now do you?"
"No."
"Then stay out of it!"
"Ok you ready?"
"Yes."
"Lets get this over with oh one more thing."
"What now?"
"This is not like a human marrige ok?"
"What do you mean?"
"The Voltori now nothing of you so Santiago is going to have to show his love for you by saving you sweetheart ok?"
"Yes."
"Good lets go."
As we walked I worried.When we got there Santiago was waiting to take me in.
"Why you making me fell guilty for this?"
"Cause I am nevorse."
"Oh."
"You ready?"
Now he sounded like my dad.
"Yes."
He opened the door and the middle one stoud up ans saided..........
"Why is this Santiago's new mate?"
"Yes."Santiago said
"Hi"I said
"Well your nice whats your talent dear?"I think his name is Aro said.
"Mine is opposite of Didyme."I said
"Really?"
"Yes."
The one on his left stood up and said......................
"My dear why are you here?"I now his name is Marcus the mate of didyme.
"Santiago told me you would tell us we could be mates."
"Well no sorry i am going to have to kill you cause you will remind me to much of my mate Didyme."
"No!!!"Santiago growled
"Felix."Said Aro
Felix was holding me down.Then sunnldy Santiago and Demetri and Mercy were here to save me.But Mercy stared at me then said
"Why must my child go throw what i have been?"
Then Santiago was on the floor with Demetri and Mercy.I screamed for them to stop but Aro stared at me in anger.
"Why must you do this to me thats it STOP JANE!!!!!!!!!!"
She stopped and stared at me in happyness.I knew i was going to die.
Then felt myself go blind then Santiago shouting at a men named Alec to stop or he was going to make him stop.
But right when Santiago was about to growl i used my talent to sperad around then room and every thing stopped and i was not blind I could see.
I screamed cause Jane was hurting me.Then it stopped cause Jane and Santiago was westaling on the floor like kids.
"Stop Santiago."The one on the right of Aro said
"Why should I?"
"Cause I have decied to let you two be mates."
Then he was carring me to our room.
The End
Ad blocker interference detected!
Wikia is a free-to-use site that makes money from advertising. We have a modified experience for viewers using ad blockers

Wikia is not accessible if you've made further modifications. Remove the custom ad blocker rule(s) and the page will load as expected.