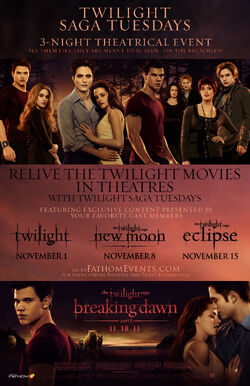 Hey Twihards!
Twilight Tuesday starts this week! What is Twilight Tuesday you ask? With less than 3 weeks to go until Breaking Dawn: Part I, Summit Entertainment is releasing each of the three movies every Tuesday until Breaking Dawn!
You can get tickets here and relive the movies in full at participating theaters around the nation!
Not sold on the idea of watching it in theaters again? Not only will this be the perfect countdown event for you and your Twi-buddies, but also the perfect chance to see never-before-seen content and exclusive clips from Twilight Saga, past and present!
You can RSVP on Facebook! 650px|right
Ad blocker interference detected!
Wikia is a free-to-use site that makes money from advertising. We have a modified experience for viewers using ad blockers

Wikia is not accessible if you've made further modifications. Remove the custom ad blocker rule(s) and the page will load as expected.