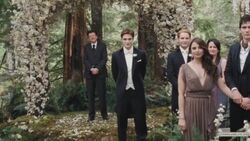 OMG Twihards! Check out these stunning pictures and short clip of Bella and Edward's wedding from Breaking Dawn (films)! The moment that every Twihard has been waiting for (unless you're Team Jacob) has finally come!
While Bella's dress is still being kept under wraps (Royal Wedding, anyone?), we see her ring and her hair, which is simply stunning. Can't expect anything less from Alice's handiwork right? The picture on the right also shows Esme, Edward, Carlisle, and Carmen of the Denali Coven!
Bella
Video
The MTV Movie Awards WILL air the full clip after the awards this Sunday! Are you excited yet!? Will you watch the Awards just for Twilight? Meanwhile you can watch the very short version here: MTV
Kate.moon 22:06, June 2, 2011 (UTC)
Ad blocker interference detected!
Wikia is a free-to-use site that makes money from advertising. We have a modified experience for viewers using ad blockers

Wikia is not accessible if you've made further modifications. Remove the custom ad blocker rule(s) and the page will load as expected.