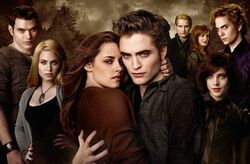 The countdown clock on the Twilight Wiki has now shrunk to double digits but it's still a long way to go until Breaking Dawn Part 1 comes out in theaters!
Luckily, you just may be able to catch some new Breaking Dawn footage in theaters this weekend! How? Empire Big Screen is holding screening at EOne Studio on Saturday morning to bring you exclusive footage from movies...including Breaking Dawn!
You can buy a "Diamond Ticket" to go to the screening event! Read on for more details here!
If you happen to attend the event, be sure to tell us all about it!
Ad blocker interference detected!
Wikia is a free-to-use site that makes money from advertising. We have a modified experience for viewers using ad blockers

Wikia is not accessible if you've made further modifications. Remove the custom ad blocker rule(s) and the page will load as expected.