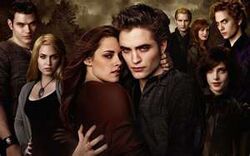 Hey Twihards!
Yesterday I mentioned the the Twilight Trio: Robert, Kristen, and Taylor are getting immortalized at the iconic Chinese Theatre in Hollywood today. Now you can watch the event right now at Twilight Saga Wiki via this live stream link!
We've embedded the link here for your viewing pleasure so watch now (the ceremony started at 10 AM PST!) and tell us what you think!
Video
Ad blocker interference detected!
Wikia is a free-to-use site that makes money from advertising. We have a modified experience for viewers using ad blockers

Wikia is not accessible if you've made further modifications. Remove the custom ad blocker rule(s) and the page will load as expected.