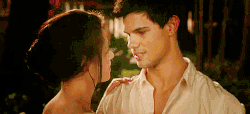 As most of you probably saw, the new Breaking Dawn Trailer was released yesterday! If you haven't seen the trailer yet, you must do it ASAP!
The new, longer trailer gave us lots and lots of amazing new scenes from the movie. So tell us your FAVORITE scene from the trailer! What did you love? What broke your heart? What do you want to see the most??
Poll
What's your favorite scene from the new Breaking Dawn Trailer?
Ad blocker interference detected!
Wikia is a free-to-use site that makes money from advertising. We have a modified experience for viewers using ad blockers

Wikia is not accessible if you've made further modifications. Remove the custom ad blocker rule(s) and the page will load as expected.