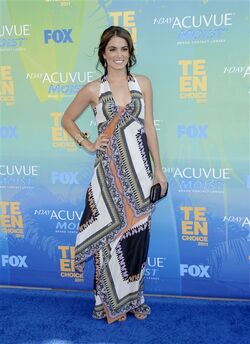 Arguably the biggest movie of the year to date, Harry Potter took on Twilight during the Teen Choice Awards last night. Although Harry Potter took the award for Choice Movie, Twilight was no slouch in the winners circle, sweeping Choice Movie Actor for Sci Fi/Fantasy: Taylor Lautner; Choice Movie Actor for Drama: Robert Pattinson; Choice Movie Scene Stealer Male: Kellan Lutz; Choice Movie Scene Stealer Female: Ashley Greene; and....DRUMROLL....the coveted CHOICE VAMPIRE: Robert Pattinson!! He beat out vampires not only within his own coven but other vamps from Vampire Diaries and True Blood!
Were you rooting for Edward to be Choice Vampire all along? Or did you want Rosalie to win? Or perhaps even another vampire altogether!? Check out our Choice Vampire poll and pick your own here!
Ad blocker interference detected!
Wikia is a free-to-use site that makes money from advertising. We have a modified experience for viewers using ad blockers

Wikia is not accessible if you've made further modifications. Remove the custom ad blocker rule(s) and the page will load as expected.