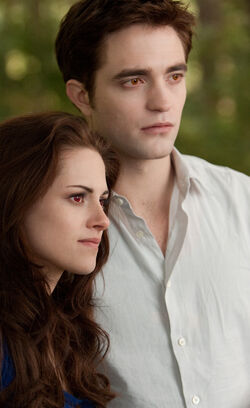 Can't wait until November for Breaking Dawn: Part 2? Time to attend Comic-Con!
Twilight Saga is heading to Comic-Con this year with a sneak peek of Breaking Dawn: Part 2, as well as signings and glimpses of the cast.
Wikia is heading to Comic-Con...are you?
Press Release
We are happy to announce that THE TWILIGHT SAGA: BREAKING DAWN – PART 2 will be the opening panel in Hall H at ComicCon® International in San Diego on Thursday, July 12, 2012. Summit Entertainment will present a sneak peek at the highly anticipated conclusion of The Twilight Saga films. This is a must-see for fans interested in the story's final chapter, who will be shown exclusive footage from THE TWILIGHT SAGA BREAKING DAWN – PART 2 and treated to a cast and filmmaker Q&A session providing details on the epic finale.
---
---
Ad blocker interference detected!
Wikia is a free-to-use site that makes money from advertising. We have a modified experience for viewers using ad blockers

Wikia is not accessible if you've made further modifications. Remove the custom ad blocker rule(s) and the page will load as expected.