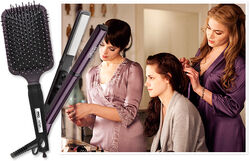 All vampires in Twilight Saga are preternaturally beautiful, but if you wanted to recreate one of the gorgeous hair styles that the ladies and gentlemen of Twilight sport, look no further than PRO Beauty Tools!
PRO Beauty Tools is launching an entire collection of Twilight-inspired hair tools, officially called "Twilight Sparkles Tool Collection." It will be comprised of nine different tools, each meant to help you style your hair according to your favorite Twilight beauty muse! If recreating Rosalie's beautiful loose curls sounds daunting, not to worry, the tool will come with a detailed how-to styling card for your benefit.
Check out the full collection, courtesy of In Style! Would you buy one of these tools for yourself? They'll be available come October 1st at Kmart, Walmart, and Best Buy!
Gallery
Ad blocker interference detected!
Wikia is a free-to-use site that makes money from advertising. We have a modified experience for viewers using ad blockers

Wikia is not accessible if you've made further modifications. Remove the custom ad blocker rule(s) and the page will load as expected.