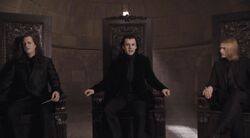 A Twilight Musical? The Twilight fever is taking Broadway by storm with an invasion of vampires and...wizards.
Twilight: The Musical will be a one-night production with proceeds going to charity featuring not only Bella, Edward, and other familiar characters, but also a crossover with Harry Potter!
According to official synopsis: "The musical examines our culture of obsession through the story of teenage outsider Bella Swan who risks everything when she embarks on a star-crossed romance with Vampire Edward Cullen."
Of course the musical is meant as a one-off parody of the original Twilight, and not canon. But for charity, why not? If you happen to be in New York, will you be checking it out?
Clip