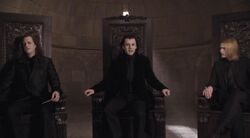 A Twilight Musical? The Twilight fever is taking Broadway by storm with an invasion of vampires and...wizards.
Twilight: The Musical will be a one-night production with proceeds going to charity featuring not only Bella, Edward, and other familiar characters, but also a crossover with Harry Potter!
According to official synopsis: "The musical examines our culture of obsession through the story of teenage outsider Bella Swan who risks everything when she embarks on a star-crossed romance with Vampire Edward Cullen."
Of course the musical is meant as a one-off parody of the original Twilight, and not canon. But for charity, why not? If you happen to be in New York, will you be checking it out?
Clip
Ad blocker interference detected!
Wikia is a free-to-use site that makes money from advertising. We have a modified experience for viewers using ad blockers

Wikia is not accessible if you've made further modifications. Remove the custom ad blocker rule(s) and the page will load as expected.