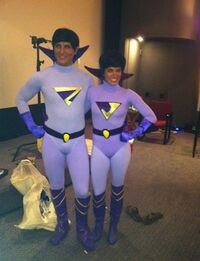 Check out this cute photo of Peter Facinelli and Nikki Reed dressed as "The Wonder Twins," from Nikki's new Twitter account!
Barely recognizable in their superhero get-up, the purple duo got geared up for Peter Facinelli's skit for College Humor. We can't wait to see the skit ourselves, based on the popular DC Comics from the 70's!
What do you think, Twihards? Vampires or superheroes? Check out their just-released skit below!
Video
Ad blocker interference detected!
Wikia is a free-to-use site that makes money from advertising. We have a modified experience for viewers using ad blockers

Wikia is not accessible if you've made further modifications. Remove the custom ad blocker rule(s) and the page will load as expected.