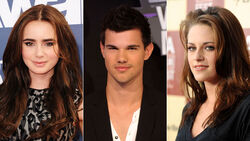 Ok so Jacob didn't really get Bella in the end but the love triangle between Edward, Jacob, and Bella are the driving force in the Twilight Saga. Now it looks like his on-screen lover and his real-life girlfriend are about to face off in Hollywood.
Both Kristen Stewart and Lily Collins, Taylor Lautner's girlfriend, are slated for Snow White movie adaptations next summer. Kristen Stewart's Snow White and the Huntsman is a much darker version of the classic fairy tale while Collins's movie follows a more classic storyline.
When asked about both movies, Taylor Lautner remained diplomatic:
"It's tough," he told reporters on the MTV Video Music Awards red carpet. "I mean, my excuse is they're so different. I can root for them both."
Kristen Stewart
He praised Kristen Stewart's role: "Kristen's going to be cool and edgy and dark," Lautner said of her role in Huntsman. "It's gonna be something new for her and I think that's really exciting."
Lily Collins
As for Lily Collins? "Lily's gonna be great too," he's quick to add. "And a completely different feel."
Abduction
Don't forget that Taylor Lautner will be heating up the screens with Lily Collins in Abduction as well:
"I call it an action-drama-thriller-romance, I mean it's got everything in it," he said of the film, before teasing an "intense, intense steamy scene" between he and Collins.
What do you think Twihards? Will you be watching Snow White and the Huntsman to root for our Bella? Think Taylor was in a tough spot there? Speculate away in the comments!
Source
Ad blocker interference detected!
Wikia is a free-to-use site that makes money from advertising. We have a modified experience for viewers using ad blockers

Wikia is not accessible if you've made further modifications. Remove the custom ad blocker rule(s) and the page will load as expected.