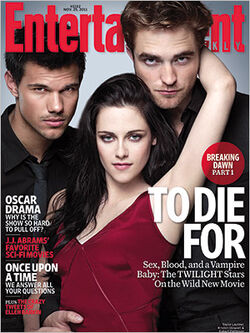 Can you believe that Breaking Dawn: Part 1 premieres tomorrow, Twihards?! After months of waiting, the countdown clock has finally hit the 1 day mark.
In honor of the premiere, EW released this Twilight cover today! Featuring the Twilight Trio: Kristen Stewart, Robert Pattinson, and Taylor Lautner, the stars discuss the frightening birth scene (which will be towards the end of the movie) and how the "love scene" won't disappoint!
If it weren't for the PG-13 rating, the honeymoon would have been far more steamy, according to Kristen and Robert.
"There's a version where it was really intense," recalls Pattinson in this week's EW. "Cinematically, cut all together, it's awesome," says Kristen Stewart. "But we didn't really do that scene. "
"And when we did," adds Pattinson, "they kept telling us to stop." Juicy, right?
How hyped are you for Breaking Dawn!? Anyone seeing it the night of the premiere? Do tell! Be sure to check out some of the gorgeous stills from the movie and EW photoshoot below!
Gallery
EW Gallery
Ad blocker interference detected!
Wikia is a free-to-use site that makes money from advertising. We have a modified experience for viewers using ad blockers

Wikia is not accessible if you've made further modifications. Remove the custom ad blocker rule(s) and the page will load as expected.