If you feel like you just can't wait until November for the latter half of Breaking Dawn, Target is hosting a late-night DVD release event for Twi-hards with exclusive first-look scenes from the movie!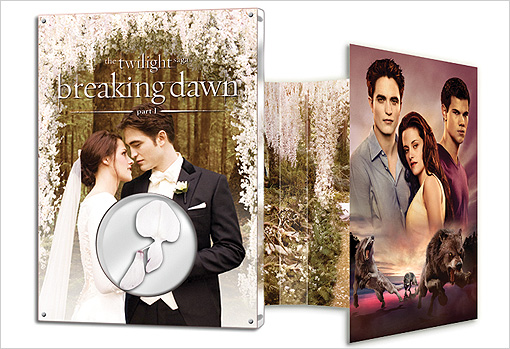 Press Release
Target announced that nearly 500 stores across the country will extend store hours to host a release event for Summit Entertainment's "The Twilight Saga: Breaking Dawn – Part 1" available on DVD and Blu-ray. Beginning at 11 p.m. on Feb. 10, fans will be shown an exclusive, world premiere scene from the fifth and final film, Breaking Dawn – Part 2. Then, at midnight, fans can purchase the Target exclusive Breaking Dawn – Part 1 DVD Limited Collector's Edition that includes an authentic prop flower from the wedding scene beautifully encased in an acrylic keepsake. The special edition DVD and Blu-ray will also be available.
"We're making Target the Twilight Saga destination this February," said John Butcher, vice president of entertainment, Target. "By extending our store hours, fans will not only get their hands on the exclusive merchandise first, but they'll also get an exciting sneak peek of the final film."
You can of course also pre-order the DVD at Target now, just in time for Valentine's Day. Are you interested in going? The participating Target store list will be released on Feb. 10!
Read More
Ad blocker interference detected!
Wikia is a free-to-use site that makes money from advertising. We have a modified experience for viewers using ad blockers

Wikia is not accessible if you've made further modifications. Remove the custom ad blocker rule(s) and the page will load as expected.