Comment

1
Save the Date for Breaking Dawn Fan Convention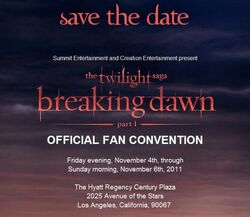 We have more information on the Official Fan Convention (Twi-Con) held in Los Angeles this year!
Summit Entertainment and Creation Entertainment is presenting this year's Twi-Con at Hyatt Regency Century Plaza in Los Angeles from November 4th to November 6th, which of course coincides with press junkets for Breaking Dawn! It's especially buzzy because there are rumors that cast members will attend Twi-Con to surprise their fans while on tour promoting the movie!
If you are in the LA area (or plan to attend) here is everything you need to attend! For Hotel Reservations:
for updates.
Source