Comment

1
Robert Pattinson's Juicy Role in Bel Ami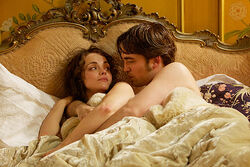 Robert Pattinson may play the faithful one-woman vampire with a heart of gold in Twilight, but the actor is taking no prisoners in his next role as a sexy, womanizing social climber in Bel Ami, a movie based on a novel by Guy de Maupassant.
Pattinson plays George Duroy, an ambitious poor man who sleeps his way to the top with a series of beautiful, wealthy women! It's certainly a far cry from Edward but just wait until you see these hot pictures of Pattinson in various stages of undress.
Can you imagine Pattinson in other roles or is he forever Edward? You tell us!
Gallery