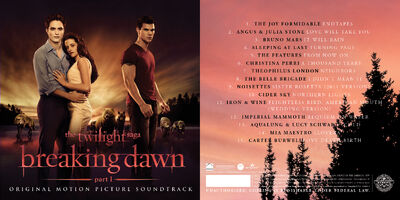 Great news, Twihards! You can preview some of the music from Breaking Dawn Part I soundtrack right now on Twilight Saga Soundtrack Facebook!
Here are a few of the songs that are currently available:
A Thousand Years - Christina Perri
Endtales - The Joy Formidable
I Didn't Mean It - The Belle Brigade
Turning Page - Sleeping at Last
Additionally, both Christina Perri and The Joy Formidable have custom intro messages that play before their tracks, and Bruno Mars has one before his full streaming track!
Be sure to check it out and tell us what you think!
Ad blocker interference detected!
Wikia is a free-to-use site that makes money from advertising. We have a modified experience for viewers using ad blockers

Wikia is not accessible if you've made further modifications. Remove the custom ad blocker rule(s) and the page will load as expected.