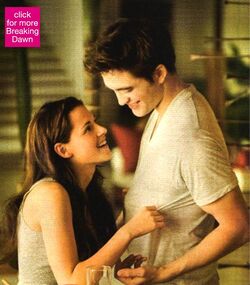 Hey Twihards!
Summit just keeps feeding our addiction for Twilight by trickling out new stills slowly. They just released this new picture of the on-screen lovebirds looking...well very much in love!
According to Hollywood Life, the picture is especially fitting because Robert Pattinson flew over to London to meet his real life beau Kristen Stewart while she's filming for Snow White and the Huntsman!
It's nice to see Bella looking so at ease instead of being tense and anxious. What do you think of the new picture?
Ad blocker interference detected!
Wikia is a free-to-use site that makes money from advertising. We have a modified experience for viewers using ad blockers

Wikia is not accessible if you've made further modifications. Remove the custom ad blocker rule(s) and the page will load as expected.