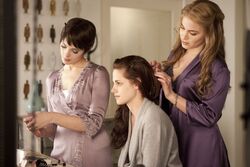 Brace yourselves, Twihards! Nine new stills from Breaking Dawn Part I has hit the web! Although we still have to wait until November to watch the highly anticipated wedding and honeymoon scenes between Edward and Bella we at least get an early look at some key moments!
Among the pictures are a tense exchange between Jacob and Rosalie; Alice and Rosalie helping Bella get ready for the wedding; more honeymoon scenes; and what looks like Bella and Edward's journey to Isle Esme!
Take a look at the pics and tell us what you think!
Gallery
Source
Ad blocker interference detected!
Wikia is a free-to-use site that makes money from advertising. We have a modified experience for viewers using ad blockers

Wikia is not accessible if you've made further modifications. Remove the custom ad blocker rule(s) and the page will load as expected.