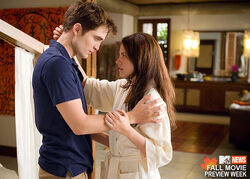 It's getting hard to keep track of all the new stills for Breaking Dawn! Here's another one to tide you over until September 13, which is when something big is rumored to come out, just in time for Bella's birthday!
Unlike the happier honeymoon pictures recently released, this picture features a worried looking Edward and Bella. It doesn't look like the Cullen house, so perhaps they're on their honeymoon still?
Also check out the new dramatic teaser posters!
Gallery
Source
Ad blocker interference detected!
Wikia is a free-to-use site that makes money from advertising. We have a modified experience for viewers using ad blockers

Wikia is not accessible if you've made further modifications. Remove the custom ad blocker rule(s) and the page will load as expected.