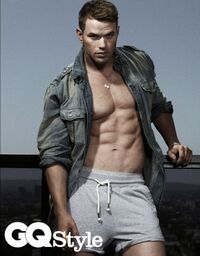 Kellan Lutz the hottie who plays Emmett Cullen, often gets overlooked in favor of Edward and Jacob. But this hot new shoot for GQ Australia proves that he can run with the best of the Twilight Saga men!
Lutz will be playing the powerful god Poseidon in Immortals once the filming for Breaking Dawn wraps up. The man looks better with a tan, don't you think, ladies?
Check out these hot shots from GQ right here!
Gallery
Ad blocker interference detected!
Wikia is a free-to-use site that makes money from advertising. We have a modified experience for viewers using ad blockers

Wikia is not accessible if you've made further modifications. Remove the custom ad blocker rule(s) and the page will load as expected.