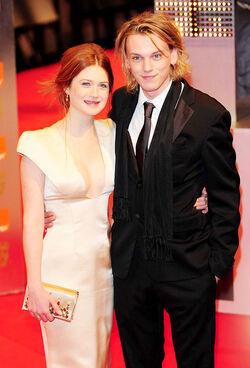 News and pictures having been floating around that Jamie Campbell-Bower who plays Caius in the Twilight series is engaged to Bonnie Wright, who plays Ginny Weasley in Harry Potter! While neither have confirmed their engagement, they have been seriously dating for a year after meeting on the set of Harry Potter and the Deathly Hallows: Part II, in which Campbell-Bower plays a young version of Gellert Grindelwald.
In related news, Jamie Campbell-Bower will also play a young King Arthur in the modern retelling of Camelot on Starz.
How do you feel about the couple? Tell us in the comments!
Links
http://twilightuniverse1264.blogspot.com/2011/03/jamie-campbell-bower-bonnie-wright-at.html
Ad blocker interference detected!
Wikia is a free-to-use site that makes money from advertising. We have a modified experience for viewers using ad blockers

Wikia is not accessible if you've made further modifications. Remove the custom ad blocker rule(s) and the page will load as expected.