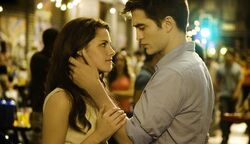 Guess what, Twihards? If you miss the MTV Movie Awards (although you shouldn't, because we're going to be live-tweeting @TwilightersWiki so don't miss it!!), you have another chance to catch the amazing trailer we've been talking about! For the first time ever, IMDb will premiere the Breaking Dawn trailer online here!
Not only will you have the chance to watch this online on IMDb but also on your mobile app of choice! You can also catch it on their Facebook and Twitter account!
The interactive site will not only feature the trailer, but also have these awesome features:
Trailers and related videos from the other films in "The Twilight Saga" franchise.
A comprehensive photo gallery from "The Twilight Saga: Breaking Dawn – Part 1".
IMDb STARmeter rankings for each of the cast members.
The ability to Like and Share content from the special section on Facebook. Fans can Tweet content from the special section as well.
A dedicated NewsDesk featuring the most current and interesting "Twilight" -related articles from a variety of top-tier news sources.
This launched just TODAY so be sure to check it out and tell us what you think!!
Kate.moon 20:25, June 3, 2011 (UTC)
Ad blocker interference detected!
Wikia is a free-to-use site that makes money from advertising. We have a modified experience for viewers using ad blockers

Wikia is not accessible if you've made further modifications. Remove the custom ad blocker rule(s) and the page will load as expected.