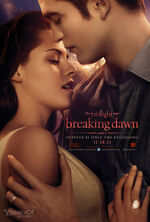 Happy Birthday Bella!!
It's Bella's birthday, Twihards! Despite a new trailer and some new stills that were released last week, there are rumors that Summit will release something big in honor of Bella's birthday! We'll of course post on the Twilight Wiki as soon as we see it!
Do you have any favorite Bella moments? Was it...when Bella and Edward kissed for the first time? When Bella and Jacob kissed for their first time? When she tried to rescue Edward from the Volturi? Share your favorite Bella moments with us below!
Source