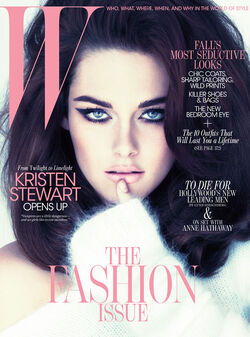 Run to the stands, Twihards! This is Kristen Stewart like you've never seen before! Usually a reluctant celebrity and attendee of red-carpet events, K-stew gets dolled up and sexy in this magazine shoot for W Magazine!
Aside from these stunning, Brigitte Bardot-inspired pictures, Kristen Stewart also speaks out about her iconic role as Bella Swan and filming for Breaking Dawn. You can read the full interview here!
Some of the highlights of her interview include her love of vampires and her take on filming the honeymoon scene with Robert Pattinson in the Virgin Islands!
Kristen Stewart: "And the last scene of the shoot was at the wedding. Every single character was there on set. At the end of that day, I was kind of whacked. And so I never really had that moment then. Instead, it happened later. We needed to film one more sort of honeymoon scene and we went to the Virgin Islands. After that scene, my true final scene, I felt like I could shoot up into the night sky and every pore of my body would shoot light. I felt lighter than I've ever felt in my life."
Sounds pretty similar to Bella's transformation, no? What do you think about the gorgeous shots?
Gallery
Ad blocker interference detected!
Wikia is a free-to-use site that makes money from advertising. We have a modified experience for viewers using ad blockers

Wikia is not accessible if you've made further modifications. Remove the custom ad blocker rule(s) and the page will load as expected.