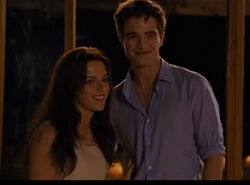 Summit Entertainment is determined to milk this until the Breaking Dawn is released! Yesterday, we posted the short honeymoon clip from Breaking Dawn but here's a LONGER one to entice you even further!
Watch Bella get ready for her night of passion with Edward as Mrs. Edward Cullen for the first time! Trust me, it's worth seeing!
Video
Ad blocker interference detected!
Wikia is a free-to-use site that makes money from advertising. We have a modified experience for viewers using ad blockers

Wikia is not accessible if you've made further modifications. Remove the custom ad blocker rule(s) and the page will load as expected.