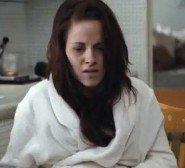 Although there's been a lot of hype about how disturbing or sexy the Breaking Dawn films were supposed to be, it looks like the movies will ultimately be taking the moderate route.
Breaking Dawn: Part 1 got the official go for a PG-13 rating, which tends to draw the most viewers and allows teens to watch the movie without parent permission. Although this is neither surprising or bad news, it does mean that Twilight will cut certain scenes that aren't "suitable" for younger audiences, including the hyped birth scene of Nessie and the honeymoon night between Edward and Bella.
Officially, the PG-13 rating entitles us to... "disturbing images, violence, sexuality/partial nudity and some thematic elements."
Would you want a higher rating to be truer to the books or are you happy about the rating? You tell us!
Source
Ad blocker interference detected!
Wikia is a free-to-use site that makes money from advertising. We have a modified experience for viewers using ad blockers

Wikia is not accessible if you've made further modifications. Remove the custom ad blocker rule(s) and the page will load as expected.