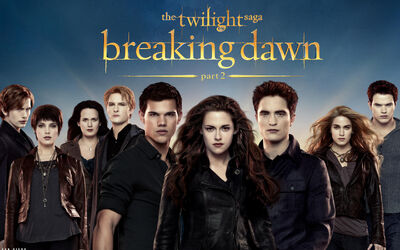 Hey Twihards!
We're all excited for Breaking Dawn - Part 2, which hits theaters on November 16, but the world premiere red carpet event is happening at the Nokia Theater at L.A. Live on November 12, 2012, we just learned exclusively from Summit Entertainment!
Is anyone in the Los Angeles area? Check back on this blog for more updates on how, when, and where you'll be able to get a camping spot for the last world premiere event for Twilight! For now, the two dates below are empty, but be sure to check back on those dates as we'll be sure to update our Twilight Timeline!
Twilight Timeline
Oct. 1-
Nov. 8-
Nov. 12- World Premiere of Breaking Dawn: Part 2
Nov. 16- Theatrical Release of Breaking Dawn: Part 2
Ad blocker interference detected!
Wikia is a free-to-use site that makes money from advertising. We have a modified experience for viewers using ad blockers

Wikia is not accessible if you've made further modifications. Remove the custom ad blocker rule(s) and the page will load as expected.