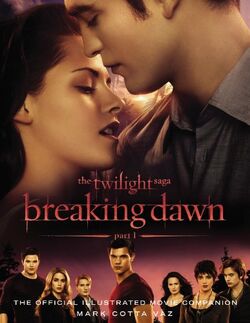 Have you pre-ordered the Twilight Saga Breaking Dawn Part 1: The Official Illustrated Movie Companion yet, Twihards? Although it officially comes out on December 13, you can pre-order it from Amazon here!
Breaking Dawn Movie recent released the cover of the illustrated guide, which is the same as one of the teaser posters that recently came out.
Do you own any of the other illustrated guides? Will you be buying this one? Only one month until Breaking Dawn: Part I comes out!
Ad blocker interference detected!
Wikia is a free-to-use site that makes money from advertising. We have a modified experience for viewers using ad blockers

Wikia is not accessible if you've made further modifications. Remove the custom ad blocker rule(s) and the page will load as expected.