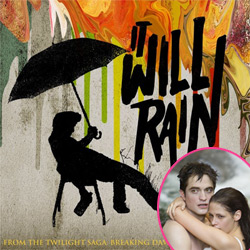 It looks like we've got an artist for the Breaking Dawn soundtrack. Although there were rumors that Robert Pattinson himself would be recording the music, it actually looks like Bruno Mars, the croon-y singer of "Just the Way You Are" will be featured in the soundtrack!
The single for Breaking Dawn, titled "It Will Rain," will come out on September 27, while the rest of the soundtrack will release on November 8, a couple of weeks before the movie. Bruno Mars is one of the very few mainstream well-known artists to be featured in Twilight Saga music; they tend to go for incredible indie bands and music.
What do you think about Bruno Mars for Twilight? Are you excited or do you prefer less well known artists?
Ad blocker interference detected!
Wikia is a free-to-use site that makes money from advertising. We have a modified experience for viewers using ad blockers

Wikia is not accessible if you've made further modifications. Remove the custom ad blocker rule(s) and the page will load as expected.