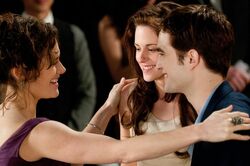 Happy Halloween Twihards!
There's a new TV spot out for Breaking Dawn titled: Love Forever. Although it's fairly short and only shows a couple of new scenes, it features Christina Perri's amazing song from the Breaking Dawn Part I soundtrack and shows Bella getting ready for her new life.
It's beautifully filmed and quite poignant. Tell us what you think in the comments!
Video