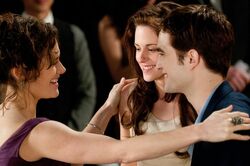 Happy Halloween Twihards!
There's a new TV spot out for Breaking Dawn titled: Love Forever. Although it's fairly short and only shows a couple of new scenes, it features Christina Perri's amazing song from the Breaking Dawn Part I soundtrack and shows Bella getting ready for her new life.
It's beautifully filmed and quite poignant. Tell us what you think in the comments!
Video
Ad blocker interference detected!
Wikia is a free-to-use site that makes money from advertising. We have a modified experience for viewers using ad blockers

Wikia is not accessible if you've made further modifications. Remove the custom ad blocker rule(s) and the page will load as expected.