Comments

0
Breaking Dawn Interview with Demetri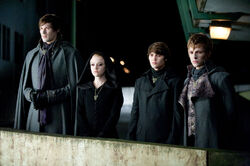 Fan of the Volturi? Who isn't? Whether you love them or hate to love them, they're some of the most original Twilight Saga storylines.
Since the Volturi will play a huge role in Breaking Dawn, Team-Twilight interviewed Charlie Bewley, aka Demetri on the movie, the cast, and his role!
Watch the interview below! Is Demetri your favorite Volturi?
Video