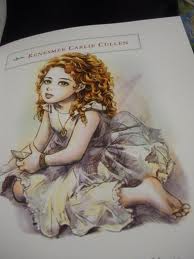 As all Twilight fans know, Bella's decision to keep Renesmee was a defining moment in her life; she was willing to die for her as a human, and became a full-fledged vampire in the process. Since Kristen Stewart is set to portray this iconic moment in Twilight, she explains how she identifies with Bella in this regard.
Kristen Stewart says, "This could really happen to anyone my age. I mean, maybe not the whole vampire thing, but everything else. It didn't feel like, 'Oh, how could you have possibly played this? It's so beyond your years!' It's like, 'Not really, dude. I could get f—ing get pregnant tomorrow."
"I'm so on Bella's side," she says. "The idea of destroying something they made together that could never happen again…. It has nothing to do with the pro-life thing. I just love the idea of her fighting. …She's been willing to die for so much, but now you actually see her, well, literally die for it."
What do you think Twihards? Bella has always been a martyr in the series but a baby is a whole different story right? Sound off below!
Source

Kate.moon 20:17, May 4, 2011 (UTC)
Ad blocker interference detected!
Wikia is a free-to-use site that makes money from advertising. We have a modified experience for viewers using ad blockers

Wikia is not accessible if you've made further modifications. Remove the custom ad blocker rule(s) and the page will load as expected.