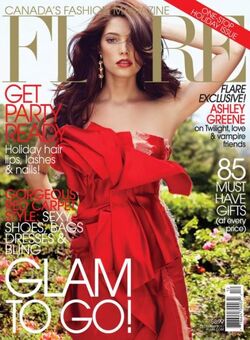 The lovely Ashley Greene is sure working overtime to promote Breaking Dawn! Spotted in Paris for an early screening of the film with Robert Pattinson and on the cover of various magazines, the gorgeous actress adds Canadian magazine, Flare, to her impressive repertoire.
Check out Ashley Greene on the cover, looking absolutely stunning in red! There's also a cute tidbit about how all the female actresses feel protective over hunky Taylor Lautner, who gets propositioned on a daily basis! Can't you just imagine the Cullen clan going "momma bear" on Taylor?
For more details, read on at Hollywood Gossip!
To get Twihards even more amped up for Breaking Dawn, we're hosting Twilight Trivia over at Twilight Wiki Facebook! Come and answer trivia questions with other fans and follow @TwilightersWiki on Twitter!
Ad blocker interference detected!
Wikia is a free-to-use site that makes money from advertising. We have a modified experience for viewers using ad blockers

Wikia is not accessible if you've made further modifications. Remove the custom ad blocker rule(s) and the page will load as expected.