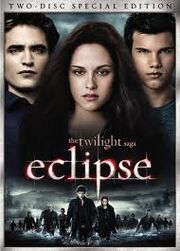 Hello Twilight Zone !!!! Well as you know Breaking Dawn part 1, is too close and like others fans I'm watching all the saga just for keep in mind some details .... so the other day I was watching Eclipse at home, and belive it or not I didn't realize that there're 3 vertions of Eclipse in the TWO DISC - ESPECIAL EDITION, until that day !!!!
OMG, I felt like a big loser, I mean, I watched the DVD 1 & 2 almost 10 times, and I never had seen that detail.
Well after the surprise, I wached the two vertions and loved it. I really enjoyed it, but Kris & Rob's comments vertion was my favorite, they're really funny. Their comments made me laugh a lot.
So, I know that you obviously knew about that detail and maybe is late for ask about your opinions, but I need to try.... so please put here your opinions, your favorites Kris/Rob's comments.
Ginaswan 02:21, June 20, 2011 (UTC)
Ad blocker interference detected!
Wikia is a free-to-use site that makes money from advertising. We have a modified experience for viewers using ad blockers

Wikia is not accessible if you've made further modifications. Remove the custom ad blocker rule(s) and the page will load as expected.