George franco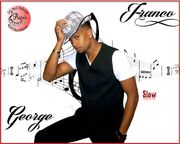 George Franco Historia
George Franco compositor y cantante, nacido en San Cristobal (Dom.Rep). Nacio y se crio en la Musica, ya que su padre era pianista, arreglista y director de orquesta. Hijo de una Familia humilde y siendo el Hijo mayor, desde muy niño sintio atracion por el canto. Algo con que su Padre no veia con buenos ojos. Ya que el no estaba deacuerdo, con que sus hijos sean musicos. 
7 de Septiembre del año 2007, llega a Suiza george franco con su hermana (maria Lucely Franco) a vivir con su Padre quien ya recide en este pais desde el 2001. Es y cuando con la ayuda del padre adquire conocimientos sobre musica. 2008 Es cuando su Padre le pone en su cabeza, que lo mejor para ellos, era que el Joven aprendiera a tocar bajo, ya que el (Jobito Franco Nina) tenia una agrupacion llamada la misma gente RD. Pasado un tiempo con la agrupacion la misma gente rd. 2010 viendo las cualidades artistica de George Franco y su hermana (Maria Lucely Franco) , su Padre decide formar el grupo Incondicionales cual fue un exito en suiza, quieres duraron 2 años juntos. En el 2012 decide George Franco hacer su propio grupo llamado grupo Unico quienes eran 4 personas cuyas personalidad era y es bondadosa en el publico latino y europeo.
En el 2014 decide George Franco Hacer su propia carrera como voz Lider como solista y produce su nuevo Album llamado Slow. Las ideas de George Franco con su nuevo Album Slow es que las personas puedan persivir (entender), como las harmonias musicales se interpretan por George Franco.

George Franco pretende con la ayuda del publico dar lo mejor de er y demostrarle a la multitud que el talento no se aprende sino se nace.

Ad blocker interference detected!
Wikia is a free-to-use site that makes money from advertising. We have a modified experience for viewers using ad blockers

Wikia is not accessible if you've made further modifications. Remove the custom ad blocker rule(s) and the page will load as expected.