If you find yourself in the Los Angeles area this weekend, head down to the Hyatt Regency Century Plaza at 2025 Avenue of the Stars for some celebrity spotting. Twilight actors Kristen Stewart, Robert Pattinson and Taylor Lautner are set to appear at Creation Entertainment's Official Twilight Convention. Expect large crowds and many screaming teenage girls.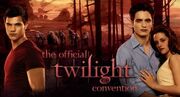 Although the main actors won't autograph or pose for pictures (there's a good chance they will squeeze a few golden opportunities in for some fans), many other actors in the Twilight franchise will be on hand to offer their scribbles for a nominal fee.
Friday, Nov. 4 will see appearances from Tinsel Korey, Mia Maestro, Julia Jones and Booboo Stewart. Additionally, Creation will host a karaoke jam, yes/no trivia game and no-minimum-bid auction. The convention hosts, Hilly and Hannah Hindi of The Hillywood Show, will also kick off the festivities.
Saturday, Nov. 5 is the big day, featuring appearances by Stewart, Pattinson, Lautner and director of Twilight: Breaking Dawn: Parts 1 & 2, Bill Condon. They will only take the stage for 30 minutes (4:30 p.m. to 5 p.m.).
Also appearing on Saturday are Charlie Bewley, Alex Meraz, Tinsel Korey, Christian Camargo, Peter Facinelli, Elizabeth Reaser, Nikki Reed, Ashley Greene, Jackson Rathbone and screenwriter Melissa Rosenberg.
Other Saturday highlights: costume competition and wedding reception party.
Sunday, Nov. 6 has a host of events. One catch: You need to be a Gold Weekend Package holder to enjoy them. The highlights: complimentary autographs and continental breakfast.
Gold packages are $349, while general admission tickets for each day cost $25. There are also preferred seating choices for $59 each day. Of the celebrities who will sign autographs, most are charging $20. Photo ops cost $35-$40 each. Expect a fully stocked vendors room with 8×10 photos, T-shirts and mugs.
The Hyatt Regency Century Plaza is one of the premier hotels in Los Angeles (no joke, it's beautiful). It's within driving distance of many great sights, including Santa Monica, Beverly Hills and Sunset Boulevard. Take a break from the convention and enjoy the southern California sun.
Going to the convention? Leave your thoughts and memories in the comment field below.
Ad blocker interference detected!
Wikia is a free-to-use site that makes money from advertising. We have a modified experience for viewers using ad blockers

Wikia is not accessible if you've made further modifications. Remove the custom ad blocker rule(s) and the page will load as expected.