I hear some people think that there's gonna be another love triangle between Jacob, Renesmee, and Nahuel. And I was wondering if Stephenie Meyers should make some another book about her deciding to pick either
Jacob or Nahuel. She likes Jacob because of him being a good imprinter etc etc and she likes Nahuel because he's also a hybrid like her.

So should she rather be with Jacob or Nahuel?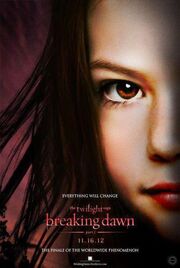 Ad blocker interference detected!
Wikia is a free-to-use site that makes money from advertising. We have a modified experience for viewers using ad blockers

Wikia is not accessible if you've made further modifications. Remove the custom ad blocker rule(s) and the page will load as expected.