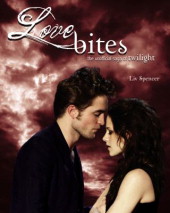 Since the few of you heard about the Love Bites the Unofficial Saga of Twilight, I've really don't know what it is or know what is it about.
But according to the About the Love Bites:The Unofficial Saga of Twilight it says "Centering on the Stephenie Meyer books, the cast of the Twilight films, and the dedicated fan base, this full-color tribute showcases all the pieces of the phenomenon surrounding the epic love story between a young woman and a vampire. Along with invaluable background information and insight into this star-crossed lovers' tale, this essential fan bible covers everything from getting the series published to adapting the books for the screen. Bios of Robert Pattinson, Kristen Stewart, Taylor Lautner, and other cast members are also featured along with details on conventions, events, and "Twilight" crafts--this is truly a must-have companion to the supernatural saga for legions of fans everywhere."
So do anyone of you know about this or has it already come out or maybe not? Seriously, I don't know what it is.
Ad blocker interference detected!
Wikia is a free-to-use site that makes money from advertising. We have a modified experience for viewers using ad blockers

Wikia is not accessible if you've made further modifications. Remove the custom ad blocker rule(s) and the page will load as expected.