(lol) Since I've been gone for a few days, I should rather "ban myself permanently" for a few months or you know... a few weeks or a year or I dunno. Also, sorry about the handwritings... lol.
So anyway, I don't know if you guys here about this news, but In Twilight, Edward's Volvo was a silver C30, while in New Moon and Eclipse, it was a deep gray XC60. This was not a universally welcomed change.
For The Twilight Saga: Breaking Dawn, it seems, Edward's Volvo will be an S60 R-9, and it's again a dark gray color.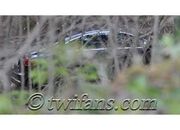 The attached image of the Volvo comes from Twifans.com, and you can see more at that site. It came from a sighting in Squamish, British Columbia, just outside of the production location for Breaking Dawn.
The S60R was the car originally discussed by Stephenie Meyer as her choice for Edward's Volvo (see here). It was also dark gray in the photos presented by her site.
So, the Volvo is different again, and this time it matches up more with what Stephenie Meyer had chosen for the character's car . . . but it's still not silver.
Ad blocker interference detected!
Wikia is a free-to-use site that makes money from advertising. We have a modified experience for viewers using ad blockers

Wikia is not accessible if you've made further modifications. Remove the custom ad blocker rule(s) and the page will load as expected.