A few days ago, Michael Welch spoke up on Twitterabout on-going production of The Twilight Saga: Breaking Dawn at the Cullen House location in British Columbia.
According to their post (which contains more information and pictures), "This house is a full scale (almost exact)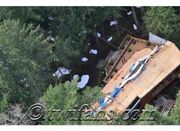 replica of the house in the first Twilight movie . . . [except that the] original house seems to be one story taller than the Squamish replica and missing an outdoor patio outside of
Edward Cullen
's bedroom."

What do you think of this glimpse? That's one massive set to have to transport and re-build from one area to another, not to mention, country to country (USA's Baton Rouge location on to Canada for this leg of production).

If you wanted to see more of the Cullen house set, then go here