Comments

23
Breaking Dawn Part 2 The Score List Revealed!!
Ad blocker interference detected!
Wikia is a free-to-use site that makes money from advertising. We have a modified experience for viewers using ad blockers

Wikia is not accessible if you've made further modifications. Remove the custom ad blocker rule(s) and the page will load as expected.
I definitely got jumped when Renesmee's Lullaby will be in the movie. I knew they would follow the book. Hopefully Edward would play her lullaby on his piano in the movie.
So here's an official Score list and the cover.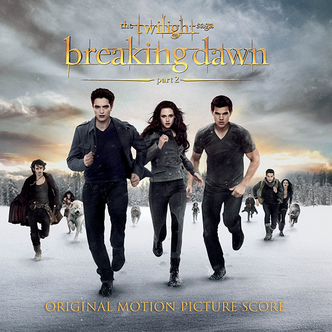 1. Twilight Overture (3:02)
2. A World Bright and Buzzing (1:12)

3. The Lamb Hunts The Lion (1:59)

4. Meet Renesmee (2:43)

5. Here Goes Nothing (0:59)

6. Sparkles At Last (1:04)

7. Catching Snowflakes (1:41)

8. The Immortal Children (2:01)

9. Merchant of Venice (0:44)

10. Into The White (1:04)

11. Renesmee's Lullaby/Something Terrible (3:03)

12. A Way With The World (1:38)

13. The Amazon Arrives (1:00)

14. A Yankee Vampire (1:07)

15. Cloud Forest (1:23)

16. Witnesses (1:37)

17. We Will Fight (0:57)

18. Shield Training (2:09)

19. At Bedtime A Child Asks About Death (1:14)

20. Decoding Alice (1:45)

21. The Driving Question (1:09)

22. Present Time (2:11)

23. This Extraordinary Life (2:11)

24. Gathering In Snow (2:45)

25. She Is Not Immortal (0:53)

26. Reading Edward (0:55)

27. Magnifica (1:10)

28. Irina Loses Her Head (2:52)

29. Aro's Oration (2:48)

30. A Kick In The Head (0:58)

31. Exacueret Nostri Dentes in Filia (1:.48)

32. Chasing Renesmée (1:20)

33. A Crack In The Earth (2:24)

34. Aro's End (1:52)

35. That's Your Future (0:52)

36. Such A Prize (3:25)