Well I thought I was almost done ramblilng, but I wanted to add photos of my copy of Eclipse. Well like I said before, My daughter and Granddaughter have been reading it also. The dog even got a piece of it by chewing up the back cover. But the rest of the damage came from us turning the pages and reading and re reading. So Here are a couple of photos. If someone ever had a contest, I think we would win.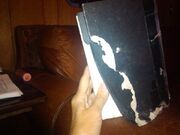 What do you Think?
Ad blocker interference detected!
Wikia is a free-to-use site that makes money from advertising. We have a modified experience for viewers using ad blockers

Wikia is not accessible if you've made further modifications. Remove the custom ad blocker rule(s) and the page will load as expected.