Okay so I went to watch Breaking Dawn Part 2 last night and I've got to say it was amazing! I was in state of depression when it finished yesterday! It takes off exactly where it left of in Part 1 and Bella is even more amazing as a vampire! The special effect at the beginning are a bit cheesy, like you wouldn't expect them, you can tell its fake at this point! But still really exciting because she's awake...and a vampire!
What I thought was really weird for a film from the Twilight Saga is that Part 2 has quite a lot of humour in it. I really didn't expect it, there are some really funny lines and the whole cinema was laughing! It was really good! Like light hearted........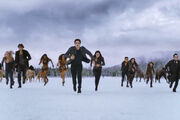 The big twist really is a twist! The whole cinema gasped in sync when it came to it! And as for my blog title 'Carlisle dead?!!' wel
l it says it all really, except the fact it could be part of the big twist! Its so shocking, honeslty my face was like :O in the cinema for about 5 minutes, but don't worry!The one thing that I will say is that all the lies about people dieing isn't true okay. Its a good ending, whatever anyone says! And I actually cried too! The
song at the end just gets me- A Thousand Years by Christina Perri, its such an emotional ending woah. And as for the recent press stories about the sex scene being even more passionate etc, its not even that bad so don't worry that its going to be too bad for 12 rated film..I personally think the sex scene in Part 1 is more revealing. The relationship between Bella and Edward is so cute and their baby is the cutest thing you've ever seen! The Volturi are even more freaky aswell...the scariest part is about the Immortal Children, that really shocked me when they said they were coming to kill the Cullens. I actually wish I was a vampire. Kirsten Stewart is even more beautiful as a vampire! I can't explain, you'll actually love it!
Forever.
Ad blocker interference detected!
Wikia is a free-to-use site that makes money from advertising. We have a modified experience for viewers using ad blockers

Wikia is not accessible if you've made further modifications. Remove the custom ad blocker rule(s) and the page will load as expected.