So,here's a Breaking Dawn video! I waited for this 2 months,lol.Here's the link:
http://www.youtube.com/watch?v=99aywFhvONY&context=C3d5a6b0ADOEgsToPDskIrZ4AcAgvoAzhmZ9nCMxAk
You can watch this,too.It's the same one.But with better sound quality:
http://www.youtube.com/watch?v=meyyFLZgoMo&context=C3d1aea9ADOEgsToPDskLpZtd_OVbI70Hd67S_GCZO
I'ts AWESOME.She's totally gorgeous.Her eyes and her skin are gorgeous.Omg,I can't even ... *_*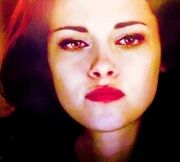 Ad blocker interference detected!
Wikia is a free-to-use site that makes money from advertising. We have a modified experience for viewers using ad blockers

Wikia is not accessible if you've made further modifications. Remove the custom ad blocker rule(s) and the page will load as expected.